Due to the many reasons and the unacceptable rate at which deck stains and coatings fail in our Kentucky weather, we no longer offer our deck treatment services. We do, however, still stain and paint fences, play sets, and other wood structures.
However, we will provide some important information for you below if you want to treat your deck yourself, or if you choose to look for a professional who will treat your deck for you.
If you have a porch, deck, or pergola, even a wooden play structure, you know how much maintenance is required to keep it looking great, and preventing it from drying out, peeling, cracking, or rotting.
We have been applying stains to these structures for years. First, a little education about various deck stains and coatings.
Water Sealers, Toners, IPE Oil, and Semi-Transparent Stains:
These four are all slightly different products from one another, but they can be grouped into one category because they all perform essentially the same function, and endure about the same amount of time (which, unfortunately, is not very long). Those who have new decks, or deck boards that are still in exceptionally good condition, or have specialty hardwood, are candidates for these materials. None of these materials contain much UV protection, which is why they only last about a year or so in our Kentucky weather before they have to be reapplied. But they do make the wood look gorgeous, for a short while. Those committed to preserving the look of real wood, seeing all the grain, and desire the new look of a beautifully treated deck, this is what you want to have done to your deck. Just please understand that it requires yearly maintenance and reapplication to remain looking beautiful. You can see in the picture to the right how dry this deck had become over time. After throughly cleaning the deck, we are applying a fresh coat of IPE oil. What a difference!
By the way, we have completely moved away from acrylic based semi-transparent stains because they simply do not last or perform well over time. We use exclusively an oil-based semi-transparent stain when customers want to achieve this look.
Below is a deck with one coat of oil, semi-transparent stain. Oil only takes one coat.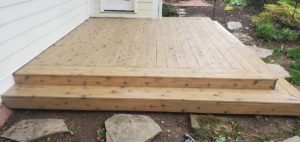 Solid-Color Stains:
A solid-color stain provides more UV protection than the four mentioned above. That's why Solid Color Stain lasts longer than the first category of sealers, toners, and oils – generally 2-3 years before reapplication is required.
Solid-Color Stain looks thicker than the first category of finishes, though it still allows you to see the wood patterns, just not the variance of colors in the wood.
The first picture below on the left is an example of the first coat of Solid-Color Stain being applied. The second picture on the right is of a deck done in Solid-Color Stain in two colors. Two coats have been applied to this deck already.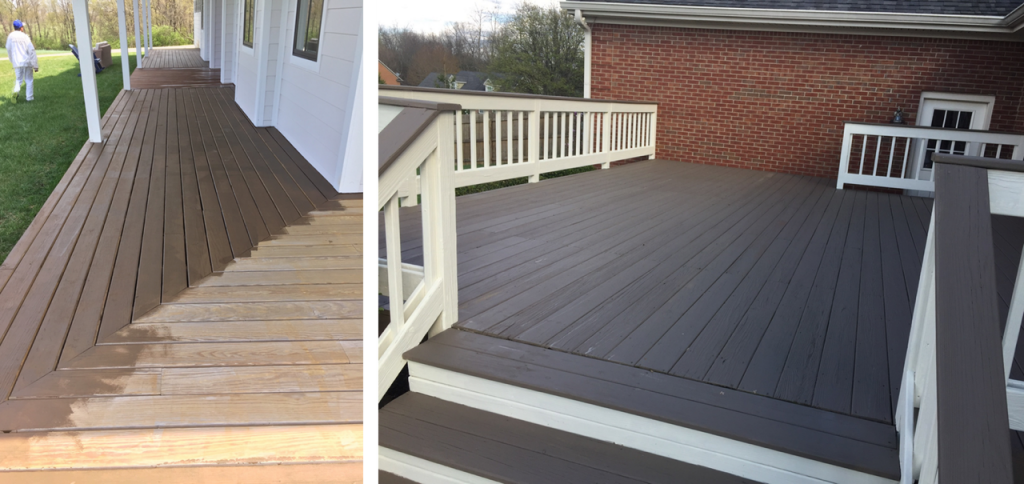 When we use Solid-Color Stains, we always first apply a coat of an oil-based stain primer to all the deck surfaces to be stained. This allows the acrylic solid top coat to last longer since the oil primer penetrates the wood better than acrylic products and therefore causes better adhesion.
Paint and Porch & Floor Enamel:
For those customers who want their deck to be less maintenance, for the coating applied to last longer so it does not have to be applied every year or two (or possibly three when lucky), this system is the way to go. And it looks awesome. We apply an exterior oil-based wood primer to everything but the deck boards and steps (that is, anything that will NOT be walked on), and then two coats of the same high-grade exterior paint we use on homes (Sherwin Williams' Duration Satin). Then we apply two coats of Porch & Floor Enamel to the deck boards, steps, and step risers.
One mistake some make is to paint deck boards. Paint is not designed to be walked on, even high-grade exterior paints, but Porch & Floor Enamel is. We use it even on concrete patios and basement floors, and it looks amazing on deck floors and steps, although it does have more of a painted look than stain does.
It's not for everyone, it's not for those who like the more traditional look and feel of stain, but it is definitely for the customer who thinks it looks good and does not want the constant maintenance of stain.
Below are some pictures of decks we've done in this system. See for yourself.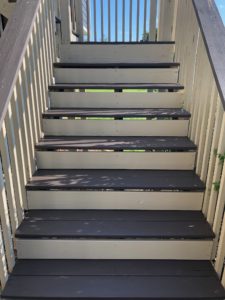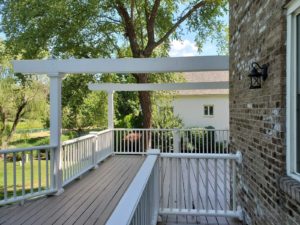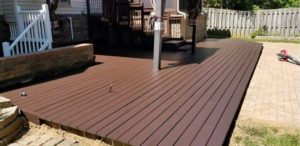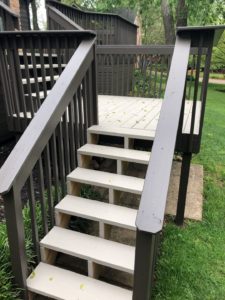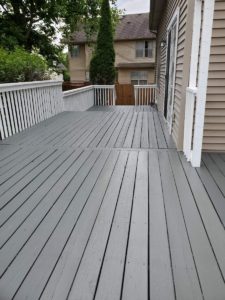 Replacement boards, railings, and pergola joists
Just to let you know, we also specialize in replacing rotted boards, handrails, and spindles as needed before we applying the product of your choice.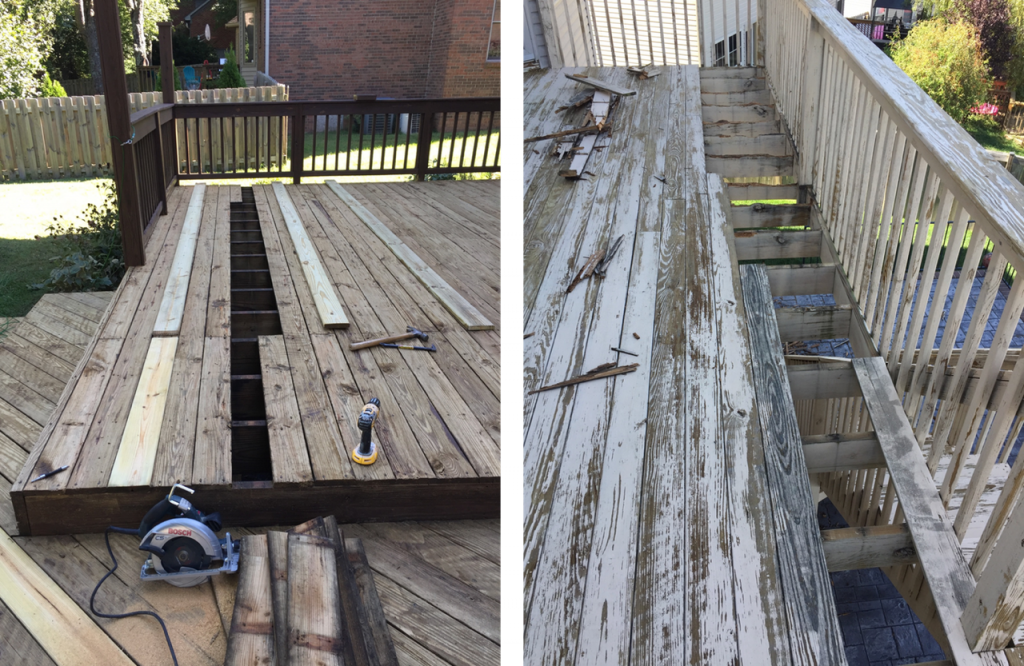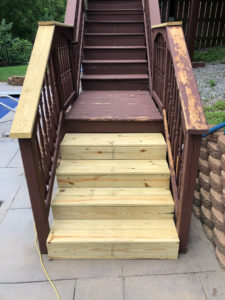 Conclusion:
I wrote this post to educate you about the different products we've used to treat decks, pergolas, porches, or even children's play structures. Yes, we've done those too!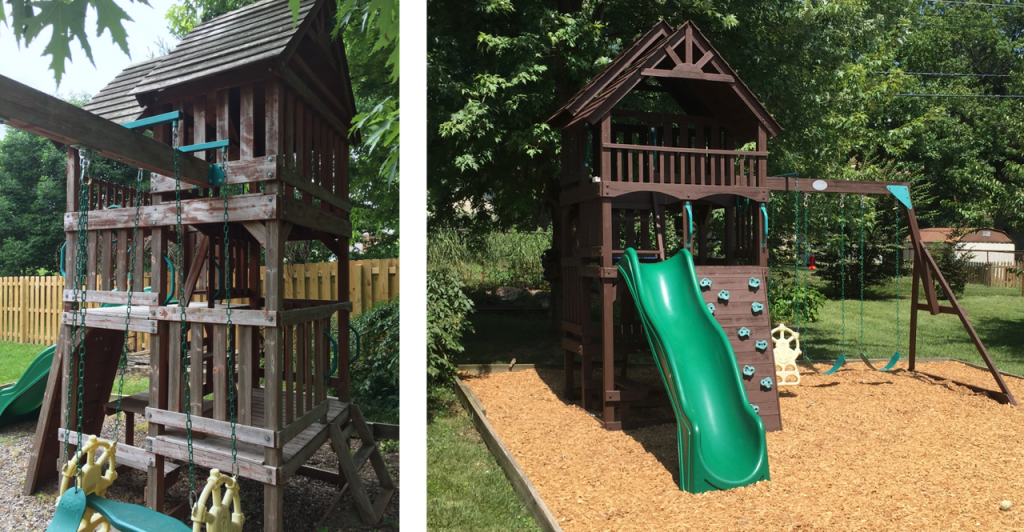 Whether you use a toner, sealer, stain, or coating, never apply the product to the underside of your deck. This is how the deck breathes and dries. We recently treated a deck that had rotted right through after only two years because someone stained the underside of the deck, and the moisture had no way to escape. It rotted the deck to ruin.
* All photos used in this post are from actual projects we have completed.
For a Homeowners Guide to Deck Cleaning, Sealing, Staining, or Coating, please click here.
And to read my article on why Choosing a Deck Stain is so Tricky, click here.
"We've used Keith and his team several times over the past two years and have been nothing but impressed." -Jennifer Buntin