"The bitterness of poor quality remains long after the sweetness of low price is forgotten." — Benjamin Franklin
I was surprised when Lee Rutherford, the new owner of a large foreclosure home on the fourth hole at the Golf Club of the Bluegrass said to me, "Keith, your bid is more than $2,000 higher than the next highest bid. But we've decided to go with you because I believe I can trust you."
I felt honored by his words, and his trust. I learned that day that price, for many people, is not the most important factor, though indeed important, in selecting the right contractor to perform the work they desire. Trust is equally, if not more, meaningful.
That's why I take my A+ rating with the Better Business Bureau so seriously, and why I am immensely proud to have earned it. In 30 years, I have never received a negative review.

I recently delivered a $21,000 quote to Pastor Reginald Davis of the Macedonia Baptist Church. He told me he had another quote for $14,000. He said, "That's a big difference. Why should I consider your quote over his? What will I get for $7,000?"
A very good and fair question.
To be entirely honest, I am often the highest quote many customers get. That does not surprise me anymore. There are numerous, good reasons why. I'm grateful that most of my quotes are accepted based on the following:
1. Our outstanding customer service, communication, and trust.
2. Superior craftsmanship based on years of experience, and the highest of self-imposed quality standards.
3. Well-trained and highly skilled painters who show up on time, do not drink, do as they're expected, clean up after themselves, and protect your home in the process.
4. I pay my Team Leaders, who have been with me for years, double industry standard because they are worth it, and your painting project will show why—you'll be amazed at how beautiful and professionally cared for your home will look when we're finished.
5. Most people can apply paint to a wall pretty well. A beautiful, home-transforming paint job is not about applying paint; it's all about careful and meticulous preparation (sanding, patching, repairing, caulking, scraping, smoothing, priming, etc.). That is the difficult but essential foundation that requires skill and experience, and what costs money. If you find a lower bid, the chances are good that corners will be cut on preparation. If so, it will show when the paint is applied. My painters will not stop prepping until we are satisfied that everything (ceilings, walls, and trim) are fully ready and will look beautiful when painted. In our industry there is a saying that speaks to this: "You can put lipstick on a pig, but it's still a pig." We transform your home by the prep work we do, before a single drop of paint is even applied.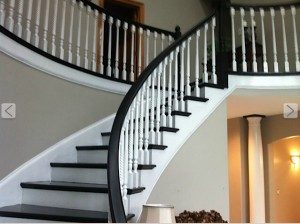 6. We use the highest quality materials — no cutting costs on low-grade paint or other supplies, as many painters do.
7. We are fully insured with general liability and workman's compensation in place, unlike many contractors who save money by not carrying full insurance, and therefore can supply lower bids, though they put you and your home at risk by doing so.
8. Our fantastic, one-year guarantee.
9. And perhaps most importantly, a contractor you can trust, and workers who will be carefully managed for trustworthiness, as well.
I hope this is helpful to you as you explore your options and make your decision.
Perhaps you can understand why one prospective customer sent me the following email after receiving my quote for staining his deck:
We have received several different quotes and they are all cheaper than yours, some by a wide margin, which leads me to believe they are not what I'm looking for. I want quality work and I do not mind paying for it. I feel comfortable using your company.
Another recent customer wrote this as part of his review of our work:
The initial project estimate was higher than others, however, the competing estimates were not detailed nor did they consider the repair work that would be required. Keith hand delivered the estimate and walked us through his approach. He immediately gained our trust.
I am very glad that we chose My Three Sons Professional Painting. The quality of the work and the quality of the people involved on the project were worth every penny.
I'm glad you are getting another quote, or two, for peace of mind and comparison purposes. That's a wise practice. Remember, what is true in many areas of life is certainly applicable in the painting industry—you usually get exactly what you pay for. If you want the highest quality of work and the most beautiful final product, you likely aren't going to be satisfied by accepting the lowest quote. If you choose my company and my quote, you'll get what you pay for, every time. And you'll know exactly why my company motto is "Your Satisfaction is Our Motivation."
I look forward to hearing from you soon.
Please click here to read testimonials from some of our very satisfied customers!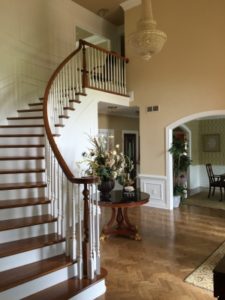 Schedule a Consultation Now!
"We've used Keith and his team several times over the past two years and have been nothing but impressed." -Jennifer Buntin
Schedule Now