A traditional kitchen cabinet (or any other cabinet) painting project is fairly straightforward although it is labor intensive, and it follows a consistent process I will share visually below.
Here are some pictures of kitchens we've transformed to give you an idea of what can happen, and the stunning new look and feel painting cabinets can make.
Here's one from oak plywood to white.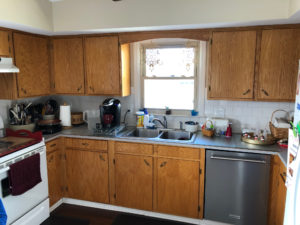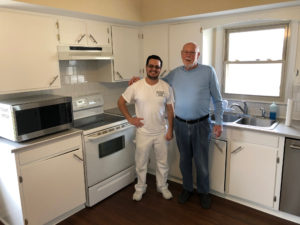 And here is another from oak plywood to espresso.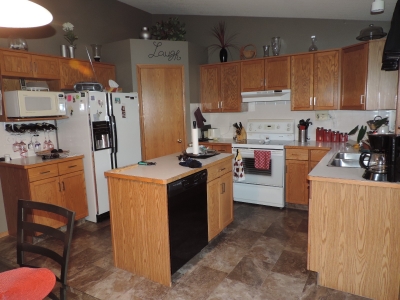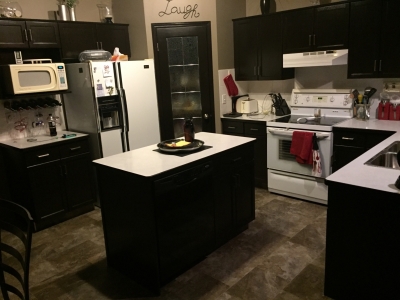 This particular kitchen makeover above cost $4,975, all labor and materials included. That is an average price range for a kitchen pictured above. The larger the kitchen, the more doors and drawer fronts, the more it costs because of how labor intensive the process is.
Here's what we do:1. We remove all the doors (and hardware) and drawer fronts.
2. We set up a spray shop in your garage where we sand, caulk, and prep all the doors and drawer fronts (on both sides). If the cabinets are stained and have polyurethane, that shiny surface needs to be sanded down in order for primer to adhere.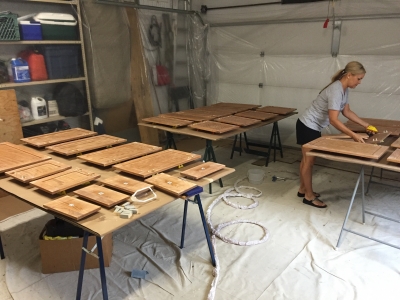 3. Then we spray a coat of oil-based bonding primer on all those doors and drawer fronts so that the paint will adhere to the primer (and not scratch off over time). This is the most important step in preparation which many painters skip in order to lower the cost. But if the cabinets are not sanded and primed with oil, they will chip and peel over time. Here is a tinted primer coat below since these doors and door fronts will be sprayed with a dark brown paint.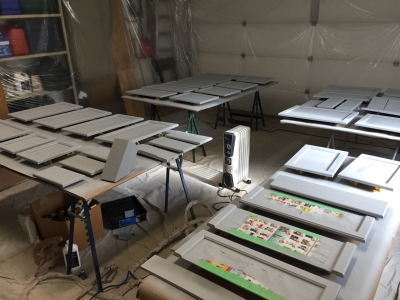 4. Once the oil primer dries, we spray two coats of the finish paint on the doors and drawer fronts.
5. Meanwhile, we follow the same process (sanding, oil primer coat, 2 coats of finish) on all the face frames and side panels in the kitchen.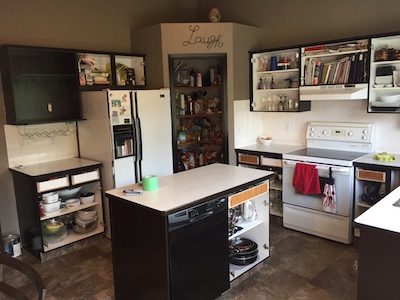 6. When every thing is dried and cured, we reinstall all those doors, drawer fronts, and hardware (hinges, pulls, knobs, etc.).
It's not an inexpensive transformation, but wow, just look at what it can become. And it's much less expensive than new cabinets.
In fact, a good rule of thumb is that having your cabinets painted properly by a professional (by this traditional method) will be about half the price of replacing your cabinets.
Our new system for spraying and stacking doors to dry is pictured below. We spray each door, one at a time on this rack.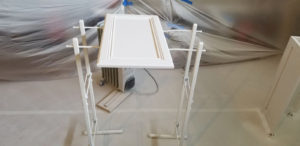 And then very carefully move each door onto a drying rack like this below.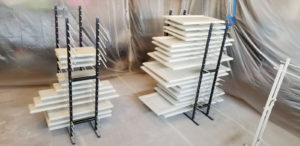 I hope this helps you think through your options for your cabinets.
If you are interested in reading about replacing your cabinet doors and drawer fronts with a different style, and in a different color, but not spending all the money to actually replace all your cabinets, click here for a great solution.
If you'd like a quote on your project, please contact me by filling out a free estimate request on our contact page.
Here are a few more BEFORE and AFTER pictures.
Schedule a Consultation Now!
"We've used Keith and his team several times over the past two years and have been nothing but impressed." -Jennifer Buntin