Would you love to give your home a fresh, new look and feel this year? Spring, summer, and fall are the busiest time of year for our exterior house painting, deck and fence staining, and pressure washing. We are booking exterior projects now. If you are considering having us paint the exterior of your house this year, please call us soon for an estimate. We'd love to take care of your project this year.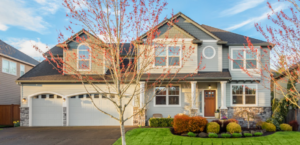 The following is an article published online 5/31/19 by Angie's List.
The best way to estimate cost is to know the condition of your home. Nathan Pratt, co-owner of Prim Painting in Columbus, Ohio, says he determines the cost to paint a house by the amount of prep work involved and the level of difficulty.
Look for peeling paint, cracking, rotted wood, and water damage around the exterior. Or leave the guess work to the pros. Some contractors give free estimates and even come evaluate the condition of the home before you hire them.
Steps to Prepare for Exterior House Painting
When it comes to exterior painting, preparation matters most. "If your paint job goes bad, it will cost more to redo than it does the first time," says Joe Campbell, owner of Arizona Painting Company in Chandler, Arizona.
Ask a painter up front about the preparation that your home will require, and always get a second opinion. Here are common prep steps that could add to the cost of exterior painting:
Power washing: Rick Hartsell, founder of Somerset Painting and Home Improvements, in Bloomfield Hills, Michigan, always starts a job with power washing. In fact, for Somerset to issue a warranty from the paint manufacturer, they must power wash the surface.
Scraping: Areas where old paint has peeled often require more scraping to ensure the new coat of paint will adhere to the surface.
"A house that needs to be scraped from top to bottom can easily cost two times more than a house where all of the surfaces are in sound condition," Pratt says.
The preparation process can be as unique as your home. Some materials require different steps than others.
Wood Replacement: Don't paint over damaged or rotting wood. A professional painter should look for damage throughout the preparation process. Replacing bad wood adds cost, but it will prevent the new paint from peeling within a few months.
Priming: The contractor will need to prime most new materials, as well as surfaces that have weathered over time. If the stucco on your home is chalking, primer could help. Ask the painter what type is best for your home.
Caulking: Don't forget to seal the small space between materials such as windows, doors and brick. Hartsell says caulking will prevent costly water damage down the road and make your home even more beautiful.
Consider Time, Materials into Exterior Paint Cost
Every home is unique, so the time and labor that goes into painting it will be, too.
When estimating a job, painting contractors factor the amount of time the project will take and what materials they'll need.
Pratt says he takes into account how many colors he'll use, how difficult the areas of the house are to access, what surfaces he'll paint and the kinds of coats they require.
Keeping paint color combinations simple can cut cost. "A home with four to six colors may take three to four times the amount of time to paint as the same home with only two colors," Pratt says.
If you're worried about the cost now, Campbell says delaying a job will only increase cost: "It is important to paint before the exterior gets too bad and you have to spend time [and money] doing the prep work."