To a professional painter or paint manufacturer, the various paint finishes are standard industry terminology and knowledge. They make perfect sense to the professional as to what each finish looks like, how they perform, and when and where they should be used.
To the average homeowner or even DIY painter, however, the fine distinctions in sheens and applications might not be as obvious. This article will clear up any confusion forever.
Flat Finish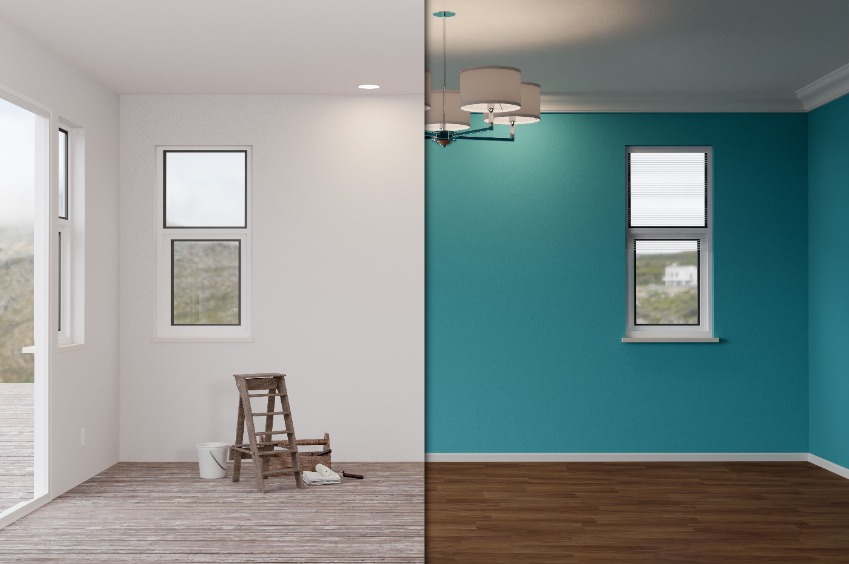 Flat finish often has a bad reputation because builders use a low-grade flat paint to paint the walls in their new construction homes. They do so for three primary reasons: first, the low-grade flat paint (often referred to as "builder's grade") is inexpensive, saving them a great deal of money at the end of an expensive build; secondly, because flat paint covers imperfections in the walls such as drywall seams or drywall that is not perfectly straight due to bowed studs or joists; and thirdly, because it is easily touched up since flat paint blends when it dries.
The second and third reasons above are in fact the great advantages of a flat finish paint on walls and why we always recommend a flat finish. However, the first reason above is a problem: it's not the flat finish itself that is problematic, it's the low-grade flat paint that is used by builders to save money. That flat paint often looks chalky over time and cannot be washed. If you try to wash it, it often smudges or even comes right off.
We only use high-grade, washable flat paints such as Super Paint or Duration Home by Sherwin Williams. Both of these paints are self-priming, high-grade, and washable paints that look beautiful on the walls of your home for many years. These paints provide the true advantages of a flat finish mentioned above: they cover imperfections in the walls and they are easily touched up since flat paint blends when it dries.
For these reasons, we always recommend high-grade, washable flat paint on the walls in your home, even in kitchens and bathrooms. Read more below to understand why.
Matte Finish
A matte finish is one step up in sheen (the painter's terminology for the level of shine in a paint finish) from a flat finish and therefore often carries some of the same benefits: a matte finish (a very low sheen/shine) is primarily used on the interior walls of a home and can often be touched up easily and often covers imperfections that are not too exaggerated. A matte finish is a great choice for walls if a customer is not inclined toward a true flat paint and desires a little more shine and washability.
Satin/Eggshell Finish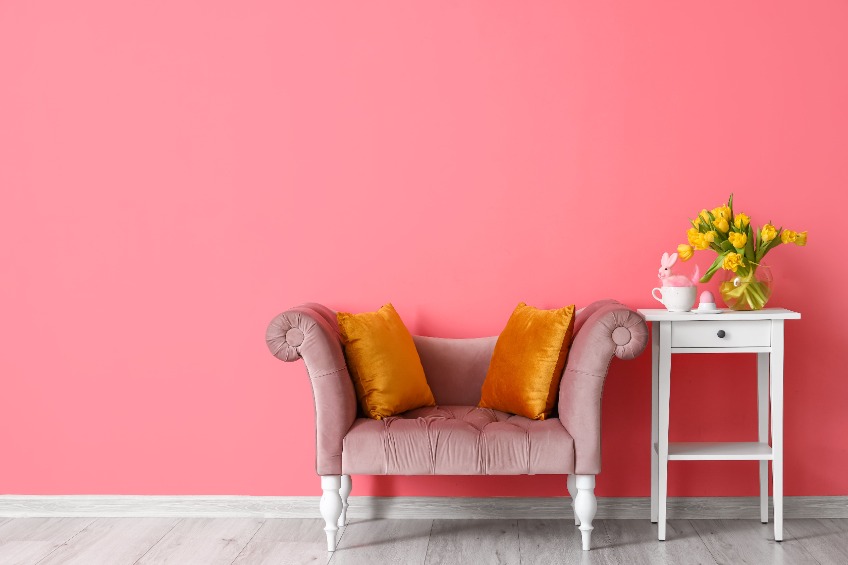 I've combined these two finishes for two reasons: the first is that there is little and often no difference between them in the level of sheen depending on the paint manufacturer who creates and labels them, and the second is that they are used mostly interchangeably by most of our customers.
These sheens are also generally applied to walls, though some customers choose these sheens on trim and woodwork if they do not want the standard semi-gloss look. These customers prefer less of sheen on their woodwork (doors, casings, baseboards, crown moldings, spindles, stair skirts and risers, etc.) than the shinier standard semi-gloss for trim.
These paints are more washable than the flat or matte finishes which is the primary reason most customers choose them for walls (besides just a personal preference for walls with some shine). However, there are significant disadvantages to consider when choosing a satin or eggshell finish for your walls. The primary is that these paint finishes cannot be touched up. The touched-up area is quite visible, especially when there is natural light that shines down the wall such as in an entry area with a picture window, or a living room or bedroom with windows.
Painters call this effect "flashing" because the touched-up area is so obvious that it seems to flash at you when you look down the wall (not straight on). These sheens also not only show imperfections in the drywall, but they also often enhance or call attention to them.
By the way, this is why we never recommend painting ceilings with a satin or eggshell paint. We always suggest a flat finish for ceilings in order to hide the common imperfections in ceilings, and to touch them up as needed when there are water leaks or other damage that can be repaired and easily touched up.
Semi-Gloss Finish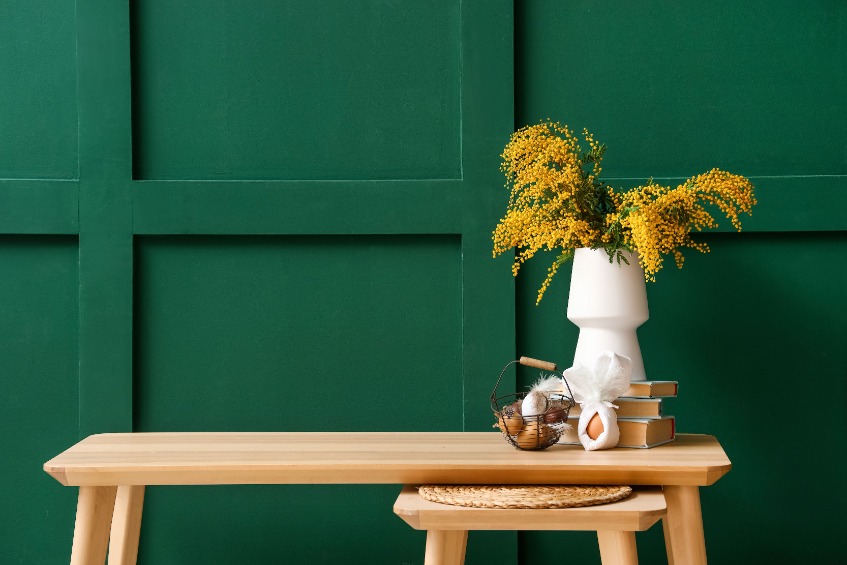 Semi-gloss is a higher-level sheen which creates the shine and significant washability that most customers prefer on woodwork throughout the house which builders and painters simply refer to as "trim."
In older homes, the trim paint was often an oil-based product that created a beautiful and durable shiny finish. However, due to the toxicity of oil-based paints, as well as the requirement to clean them up with paint thinner (also toxic and not environmentally friendly for disposal), they are slowly being outlawed and going out of production.
A word to the DIY painters reading this article: almost all trim paints now are an acrylic or water-based paint called latex. These latex paints cannot be used over oil because they will not properly bond to the oil and will easily peel off over time and with use. Old, oil-based paints need to be sanded first to remove the slick finish, and then primed with an oil-based primer which dries flat. Then the trim can be painted with latex.
In addition, several paint manufacturers are now producing an alkyd-acrylic trim paint that is designed to give the advantages of oil (alkyd) paint but with a water (acrylic) base that cleans up with water. These manufacturers promote this newer trim paint as capable of being painted over sanded oil paint, but we have had mixed success with this. We don't recommend it.
Gloss Finish
For those customers who want a very shiny finish for their trim, their front door, or perhaps a specialty item such as a fireplace mantle, the gloss finish is the way to go. Even after it dries, many customers say it still looks wet. This is simply an aesthetic choice each customer may make. There is no performance or washability advantage to gloss paint over semi-gloss. Semi-gloss is the most common choice for trim among customers.
To read more about why we recommend a high-grade, washable flat finish for walls instead of a satin or eggshell finish, click here: https://mythreesonspainting.com/which-is-the-best-finish-for-walls-flat-or-satin-eggshell/