Adam and Hadley Parritz asked us to completely remodel and reconfigure their master bathroom in a historic home on Transylvania Park in Lexington near the UK Campus. The home is actually Hadley's childhood home where she grew up which they recently purchased from Hadley's mother.
Remodels in historic homes are often a challenge given the older construction practices, the lathe and plaster walls, the old electric wiring, and the difficulty of working in spaces that are sometimes (or often) not square, not to mention working within the city's regulations and restrictions for renovating historic homes in the historic districts of Lexington
Adam and Hadley wanted us to remove a dividing wall between a small outer bathroom area where there was a sink, and the inner area where there was a toilet and tub/shower combo. To do so, we would have to eliminate the brick wall and framing and install a large LVL (laminate veneer lumber) beam to support the weight of the attic above which the load-bearing wall we were tasked to remove once supported.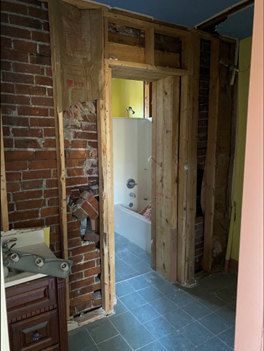 Removing this wall opened the space for a good-size master bathroom where we would move all the plumbing so that the tub and free-standing tile shower would now be on the left side of the room and a vanity with two sinks would be on the right side. The toilet would be hidden behind a new dividing wall next to the vanity. Big changes to come.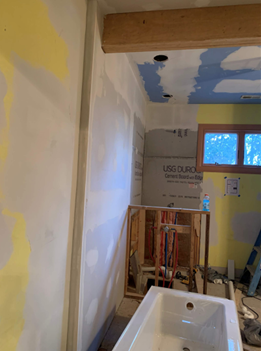 When we finished, the Parritz family had a beautifully transformed master bathroom remodel project just the way they wanted it.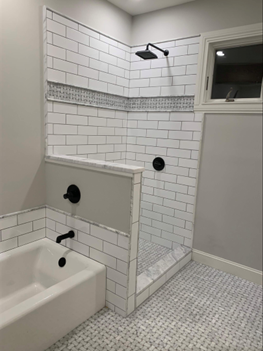 What a pleasure to work with Adam and Hadley. There were always generous, patient, and appreciative throughout the challenging project. And they seemed delighted with the finished master bathroom remodel project once it was completed.