When it comes to home makeover projects, ensuring a safe and healthy environment is crucial. One common challenge faced by homeowners, particularly in older houses built before 1978, is the presence of lead paint on the exterior surfaces. Lead-based paint, once a popular choice due to its durability and vibrant colors, has now been recognized as a significant health hazard. In this blog post, we will explain the importance of exterior lead paint abatement and restoration, exploring the key considerations and methods involved in tackling this issue effectively.
Understanding the Hazards of Lead Paint: Lead, a highly toxic heavy metal, poses severe health risks, especially to children, animals, and pregnant women. Ingesting or inhaling lead dust or particles can lead to cognitive impairments, developmental delays, and a range of other health problems. Exterior lead paint poses a particular concern as it can deteriorate over time due to weathering, causing flakes and dust to contaminate the surrounding environment.
The Abatement Process: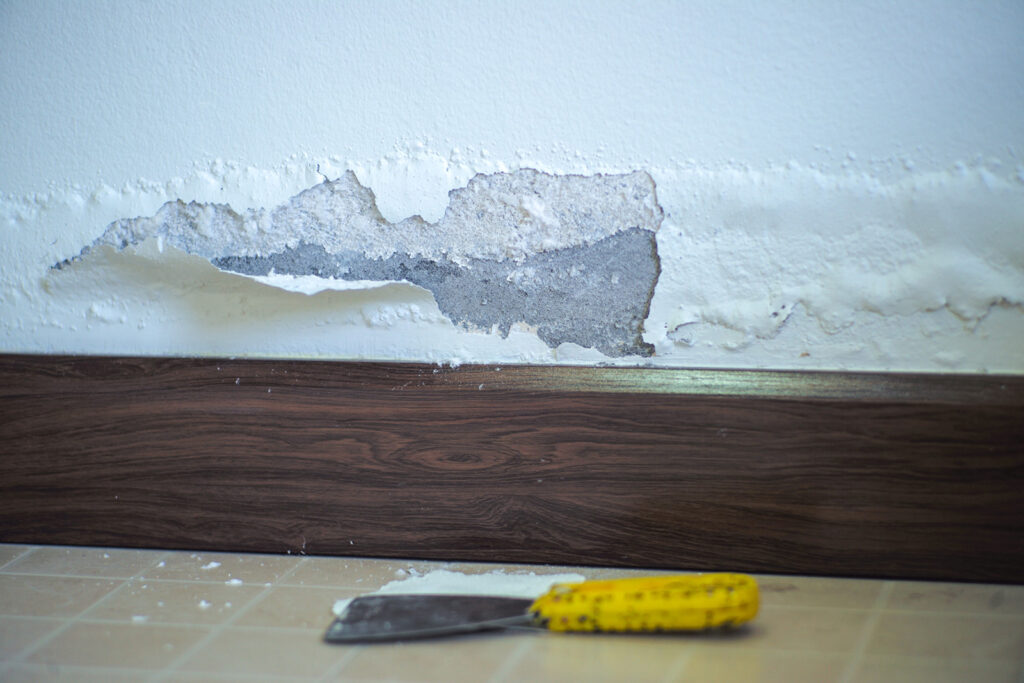 Inspection and Assessment: Before undertaking any home repainting or makeover project, it is crucial to identify the presence of lead paint on the exterior surfaces. Hiring a certified lead inspector or risk assessor can help assess the extent of the contamination and guide subsequent steps.
Safety Precautions: To ensure the safety of both occupants and workers, it is vital to establish containment measures. This may include cordoning off the work area, posting warning signs, laying out plastic sheets to collect lead dust and paint chips, and implementing effective dust control methods to prevent lead particles from spreading beyond the worksite.
Surface Preparation: Thoroughly preparing the affected surfaces is a critical step in the abatement process. This typically involves removing loose or peeling paint using wet scraping (dry scraping is disallowed by the Environmental Protection Agency – EPA), chemical stripping, or power washing techniques. Proper personal protective equipment (PPE) should be worn by workers at all times to prevent lead exposure.
Lead Paint Removal: There are several methods available for lead paint removal, including encapsulation, enclosure, and partial or complete removal. Encapsulation involves applying a specialized coating over the lead paint to seal it and prevent it from chipping or flaking. Enclosure, on the other hand, involves covering the painted surfaces with a non-lead overlay, such as siding or paneling. Partial or complete removal is the most thorough approach, but it requires careful containment and proper disposal of lead-contaminated materials.
Repainting: Once the lead paint has been abated, it is time to repaint the exterior surfaces. Selecting non-lead-based, environmentally friendly paints is essential to maintain a safe and healthy environment. Consult with professionals who have experience in lead-safe practices to ensure the longevity and quality of the repainting work. If the lead paint is not completely removed (which we call Restoration), the resulting painted surfaces will be tight, that is, no longer peeling, but the appearance will be uneven due to the EPA restriction of no sanding, and an "alligator skin" appearance will likely be obvious under the new paint.
Restoration: This is the complete removal of old, lead paint so that no lead paint remains present. This will yield the nicest quality final look when primed and painted, but it is also very labor intensive, may require heat guns to melt and remove paint, and also the use of HEPA filtered sanders. Complete removal of lead paint, full restoration, is the most expensive route to go but will also yield the highest quality finished look when repainted.
The Importance of Professional Assistance:
Dealing with lead paint abatement or restoration is a complex task that requires expertise and adherence to strict EPA safety protocols. Engaging professional contractors who are certified in lead-safe work practices is highly recommended. They possess the necessary knowledge, experience, and equipment to safely abate lead paint while minimizing risks to occupants and the surrounding environment. My Three Sons Professional Painting is lead-certified and ready to serve and help you with your lead abatement project.
Proper exterior lead paint abatement or restoration are essential steps in maintaining a safe and healthy home environment, particularly in older houses built before 1978. By understanding the hazards associated with lead paint and following the appropriate abatement procedures, homeowners can protect themselves, their families, and their communities from the detrimental effects of lead exposure. Prioritizing safety and seeking professional assistance throughout the process will ensure a successful restoration project while safeguarding the well-being of everyone involved.
Please give us a call at 859-321-7344 when you are ready to inspect your home for lead paint before considering repainting.