Once you've decided to have some interior or exterior painting done, your next (and perhaps the most important) decision is who to hire to do the work. How do you find a good house painter in Lexington?
It's a big and important decision, more important than many homeowners realize at first, especially while we are all living with the presence of a pandemic.
The painters you choose will be in or around your home for several days, sometimes longer. They will be in close contact with you and your family, your neighbors, and even your pets. They will have access to your personal items and valuables.
Be careful. You ought to get as much information as you can about the painting companies you interview, and their employees, before making such a big and important decision. Don't just Google Painters Near Me, or Painters in Lexington. Or if you do, know how to sift through the results.
That's what this article about Choosing a Good Painter in Lexington will help you know how to do.
Many homeowners are too trusting or unaware of all the potential risks in finding a good painter or hiring a good painter in Lexington. They unknowingly set themselves up for a big disappointment, or worse, because they do not do enough research about the contractor, or perhaps they don't even know what to watch out for.
Please do not simply take a contractor's word that they will do a good job.
Here are the 10 most important things to carefully consider when you want to hire a good, reputable, and skilled painter or painting company to make your home beautiful.
1. Check their online reviews

If a company or contractor does not have many and very positive reviews online, you are taking a real risk in inviting them into your home to do anything. Good places to check are their own Google Business Page, Angie's List, Next Door, Houzz, and Home Advisor. There should be a clear, long, and reliable record of superior performance verified by real customers online.
You can expect to find a few reviews that aren't positive: sometimes things happen, people do make mistakes (even skilled and experienced painters), and there is the very rare customer who no one is able to please. However, the majority of the company's reviews should be 4 or 5-star. 

2. Make sure they have a current, active listing with the Better Business Bureau and that they have an A or A+ rating.

Before my painting company was awarded the "plus" sign to our already A rating, I was not aware that the BBB awards that plus sign to businesses that have been in business for 30 years without a single verifiable negative complaint. Now that I understand what an A rating and particularly that plus sign means, I would not personally hire any contractor to work in or around my own home who did not have that level of rating with the BBB. You can easily look up any contractor at www.bbb.org. Just type in the company name. If that contractor or company does not have a BBB listing, or does not have at least an A rating, find someone who does.
3. Make sure any painting contractor you consider hiring can provide actual General Liability and Worker's Comp certificates as well as a valid Business License.

It is not enough to simply take a painter's word that they carry all the proper insurance to protect you and your home. Unfortunately, many will tell you they are insured when they actually are not. Many homeowners don't know how to check if it is true. I encourage you to get proof that backs up their qualifications for working on your project – this will be time well spent. Get multiple references and check their actual insurance documents.General Liability Insurance protects your home. If the contractor or any of his painters breaks something while working at your home, his GL policy will pay for the repair or replacement of the item that was broken. You won't have to pay for it nor get reimbursed from your homeowner's policy (potentially causing an increase in your rate).
Much more important is Worker's Compensation Insurance. And it is this insurance that very few contractors actually carry because it is so expensive. Last year, I spent $27,000 for WC insurance (and never used it). Contractors who do not legitimately carry this insurance can offer you a much lower bid on your project because they do not have to pay this overhead cost, but they place you in an extremely vulnerable and dangerous position. Hiring a contractor without proper WC insurance means that you could be held liable if someone is accidentally hurt while working on your property. I recently heard of a window replacement company worker who fell from a 24-foot ladder and badly broke his leg. The company he was working for did not carry WC insurance. So, the injured worker sued the homeowner and won a $500,000 judgment against them. Don't take this risk. Ask for certificates of both General Liability and Workman's Comp before you hire any contractor.
If the painting contractor is not able or willing to provide you with this documentation before you sign a contract, be warned. How much easier should it be to furnish a couple of pieces of paper than completing a full painting project for you? If the contractor can't get you these documents, imagine how much trouble he may have showing up on time, following the work order carefully, paying attention to detail, and finishing your project to your complete satisfaction.
4. Do they drug test and background check their employees for criminal records?


I hate to say this but there are many men and women with criminal records who are out painting houses in the Lexington area. Unfortunately, I've fired some of them myself. That's why years ago I realized it was important for the safety of my customers, and the reputation of my business, to background check any potential employee who wants to work for my company. If an applicant has any reasonably recent drug charges, robbery, assault, or breaking and entering type of record, they cannot work for our company. It's too important to me to ensure the safety of my customers, their home, and their possessions.
This is not the case for all painters, contractors, or companies. Ask any contractor who you get a quote from if they do background checks before hiring, and random drug screenings once they hire. Ask them for proof if they say they do. If not, steer clear. Find a more reputable house painter in Lexington.
5. Do they have a real and positive presence online?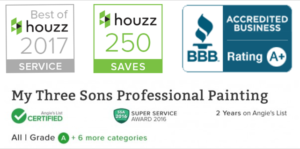 Do they have their own website with an actual office location, positive reviews, and pictures of their good work? Are they present elsewhere (Angie's List, Houzz, Google)? You should be looking for a company that has some history and is clearly reputable. Look for awards such as an A+ rating with the BBB, Best of Houzz badges, and the Angie's List Super Service Provider Accreditation.
There are many painters out there we sometimes refer to as a "man in a van" who will give you a low price, but he may not give you the quality paint job you hope for, the reliability to show up on time every day, to stay on the job until it is finished, to clean up after himself daily, and to provide that feeling of safety you and your family deserve. Finding a reliable painting company that has clear history and a strong online presence will make these important things more likely.
6. When you meet the contractor or salesperson in person, pay attention to your intuition.
Are they dressed appropriately and professionally? Do they show up to your scheduled appointment on time? If they get tied up and may be late, do they call to let you know? Do they feel like someone you could trust in your home when you are not there? If your "gut" tells you to be careful, pay attention, even if the price is right.
7. Do they guarantee their work?

My company guarantees all our work and our products for a full 5 years. Even after we are paid and gone, if our customers notice we missed something, didn't do something correctly, or if one of our products fails, our customers know to call me personally, and we will return to resolve the issue at no charge. And we have numerous online reviews to prove we make good on that guarantee. Does the contractor you are considering provide such a written guarantee? Do they have reviews to prove they actually do return after being paid to fix anything needed? That real guarantee is worth paying a little extra for.
8. Do they provide a professional and detailed proposal for the scope of work, and a contract including specified products to be used (brand and grade of paint) and a clear explanation of the preparation work to be done before any painting takes place?
I've had customers actually show me the napkin, or the envelope, or the piece of paper bag on which another painter wrote down his proposed price for painting their home. The brand and grade of paint was not specified (some painters cut corners by using very inexpensive and low-quality paint). No detailed description of the prep work was written down. Nothing but a price, and some words about painting.
If the contractor you're considering has not taken the time and has not given the attention to detail to put everything in writing for you in a professional manner, let that be a sign that this is likely the kind of work that will be performed on your home. If you expect a detailed, professional paint job, that's exactly the kind of painting proposal you should expect from your contractor.
9. Does the contractor ask for a deposit? If so, how much of a deposit is reasonable?
For years now, in order to provide peace of mind to my customers, I only ask for a deposit to cover the cost of the materials so we can buy everything we need and bring it to the job site. Then, my customers don't pay us again until the job is finished, and they are completely satisfied. Peace of mind. I've heard too many stories of customers paying a contractor half the total price up front, and then never seeing or hearing from that painter again.
In some industries such as roofing or granite countertops, it makes sense for the contractor to ask for a more substantial deposit because the materials are so expensive. That is not the case in painting. Materials are relatively inexpensive compared to the labor and overhead costs.
Do not put any more money in a contractor's pocket you don't already know and trust than is absolutely necessary. A good rule of thumb is no more than the cost of materials. You can demand this. Please do. No painting contractor needs half up front. Be careful.

10. Get a few estimates to compare, but don't always go with the lowest price.

Be careful about choosing a lower-priced estimate just to save some money. The lower-priced proposal may be cutting corners, may reflect the absence of insurance, may reveal a contractor who is not legally paying employees but is instead illegally paying contract workers cash or as 1099 subs (to avoid taxes), or not providing the same high level of quality and professional work as a higher-priced estimate may be including, especially when it comes to preparation work.The less expensive proposal may be offering a lower price because that contractor is not planning on doing everything needed to make the project look great, and to do it properly. As in so many things, you typically get what you pay for when choosing a contractor.
And as long as Covid 19 is with us, please ask the painters who bid your project what safety protocols they have in place to protect you. We take the health and protection of all of our customers and employees very seriously.
You can read our protocol by clicking the picture below.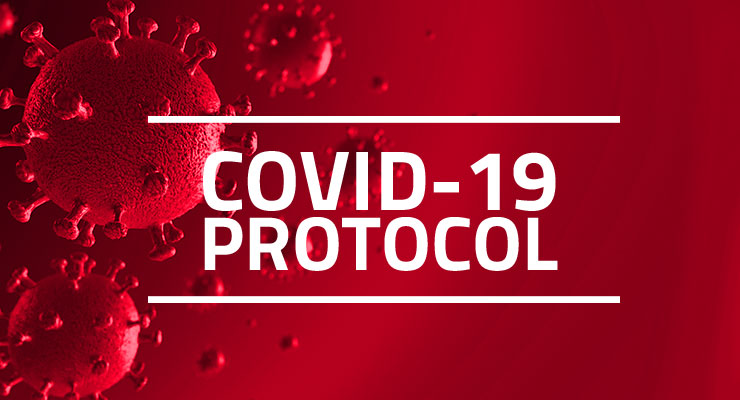 Benjamin Franklin wrote, "The bitterness of low quality lasts long after the sweetness of low price is forgotten."
When comparing several proposals you may get from a number of contractors, be sure you are comparing apples to apples and not just looking at different prices. The suggestions in this article will give you many things to compare. They may in fact reveal why one price is higher than another, and why it's well worth paying more to get more.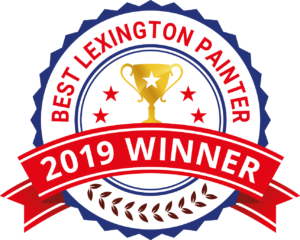 Good luck on your painting project. I hope this article proves valuable and helpful to you.
Article written by Keith Zafren, owner of My Three Sons Professional Painting Services in Lexington, Kentucky. www.mythreesonspainting.com. You can call for a free estimate at 859-321-7344